ABB Ekip UP

Ekip UP
Leveraging our digital innovations
Ekip UP is the low-voltage digital unit able to monitor, protect and control the next generation of plants. Thanks to the built-in software-based function, Ekip UP is the unit that digitalizes the plant performance. Sharing all the electronics solutions of "all-in-one" platform, Ekip UP completes the ecosystem to fit all the market opportunities.
The result is a unit suitable for all the different applications including all the needed functionalities without the need of additional external devices.
Ekip UP in the best way, will be able to:
UP-date old facility with the latest innovation in the fastest way.
UP-grade plant and get more functionalities in order to cover all the opportunities.
UP-load measures and enable true energy management function.
Maximize UP-time thanks to easy commissioning without impact on switchboard design.
Shop Ekip Products now!
Ekip UP Monitor is the multi-purpose multi-meter for energy measurement with embedded network analyser, data loggers, advanced connectivity and gateway for cloud communication.
Main energy parameters metering is guaranteed by Ekip UP open or closed rogowski coils, with or without external voltage sensors depending on specification required. The entire measurement chain enables:
Current class 1
Voltages class 0,5
Power class 2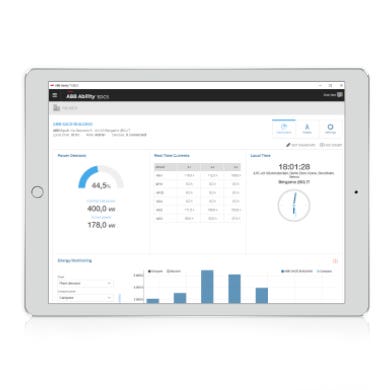 Ekip UP Monitor understands the quality of power detecting the values according to IEC61000-4-30 by an integrated network analyser:
Average Voltage value
Short Voltage interruptions and spikes
Slow Voltage sags and swell
Voltage unbalance
Harmonic analysis
Data loggers with two independent memory buffers support quick diagnosis after a triggered event.
Thanks to plug-in cartridge modules, it is very simple to share Ekip UP 3000 data with supervision systems, guaranteeing modularity for each application. The configuration is easy using the graphic-friendly commissioning tool Ekip Connect 3.0. Full connectivity for system integration and power automation can be achieved in the same unit with up to 4 protocols that can be chosen among fieldbus protocol, with possible redundancy:
Modbus TCP, Modbus RTU, Profinet, Profibus, DeviceNet, IEC 61850, Ethernet/IP, openADR, Ekip Link.
Embedded gateway for the plant integration into the cloud-based platform ABB Ability Electrical Distribution Control System. Ekip UP make every switchboard smart, enabling for remote monitoring everywhere by any laptop or tablet.
Ekip UP Protect and Protect+ are the versatile protective relays. Besides monitoring capabilities, they offer a comprehensive list of ANSI protections for power distribution and generation.
As it is possible to be interfaced with every switching device, Ekip UP Protect ensures feeder protection sending opening and closing commands for trips or manual operations. Using it with switch disconnector, it is possible to guarantee the breaking capacity equal to the value of rated short-time withstand current (Icw) for one second. If it works on an existing circuit breaker, it is possible to maintain its short-circuit breaking capacity, excluding current based protection on Ekip UP, and upgrade it with more functions.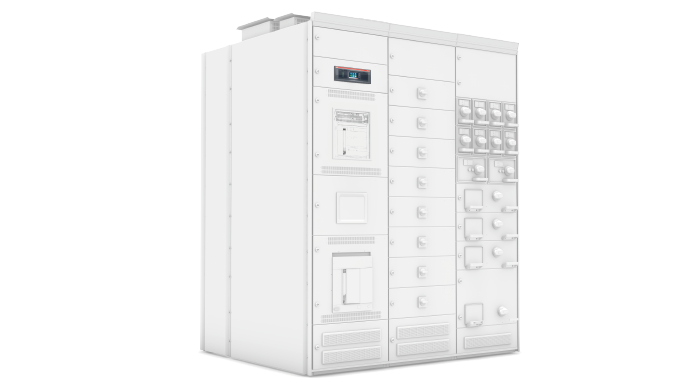 Indeed, Ekip UP ensures current based protection as well as voltage ones, all excludible:
Overload, short-circuit instantaneous or delayed, differential and ground fault, current unbalance.
Under-over voltage, under-over frequency, synchrocheck, reverse power.
Ekip Protect+ adds also all the generator protections based on active and reactive power, adaptive settings and directional protections for power distribution grids:
Under-over active power, under-over reactive power, rate of change of frequencyBesides, installing Ekip Protect+ is possible to get digital selectivity, plus distinguish restricted from unrestricted earth fault in medium voltage – low voltage substations.Both the two versions can be equipped with the sw-based innovations from the all-in-one electronics platform. These advanced features ensure service continuity and energy efficiency in the plants, reducing the complexity of programming thanks to the tools built-in Ekip Connect 3.0 commissioning software:
ATS (automatic transfer switch), fast load shedding, synchro reclosing capability, certified interface protection system.
Who has already got in practice with Emax 2 circuit breaker, he can find the same HMI and function configuration.
EEkip UP Control and Control+ are the power management unit for demand response and microgrid control applications.
Ekip UP Control simply introduces load and generation management in the plant, cutting power billing for end-users and making the electrical system ready for demand response programs, leveraging on dedicate protocols like openADR. Utilities or load aggregators can set the power flow at the point of common coupling, sending specific signals to Ekip UP Control, based on grid ancillary service, weather forecasts or pricing strategies.
Ekip UP Control+ leverages the demand control capability plus protections, ensuring a complete solution. It is the best digital product in the family, satisfying plug&play commissioning in comparison with complex PLCs (programmable logic controller) or scada systems. Ekip UP Control+ uploads the software solutions from all-in-one, as it is the way to turn on existing plants in low voltage microgrids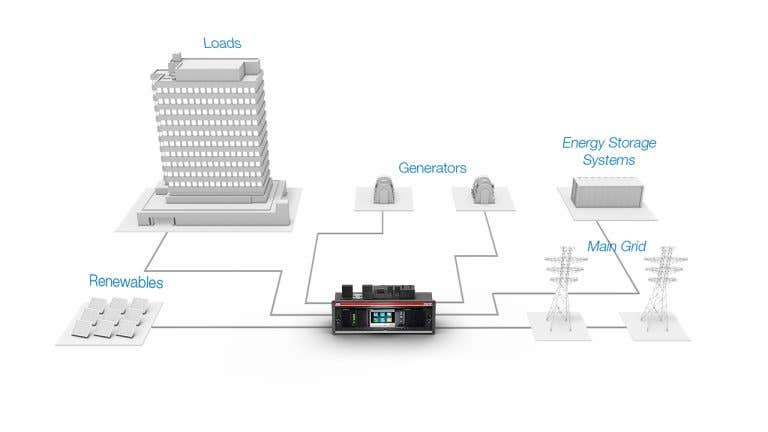 Customer Value
UP-date
Ekip UP updates basic switchboard with new monitoring, protection and power control solutions.
The external unit can be interfaced with every switching devices, from switch disconnector to breakers. It enables distribution protection and generator as a typical application of protective relays. It guarantees reliability as a dedicated electronic unit and capability for marine installation. Having its current sensors with different configurations, no choice or stock of other brand type is needed. Ekip UP installation is easy, requiring just a small panel-space in the switchboard with din-rail or door mounting options available in the same product.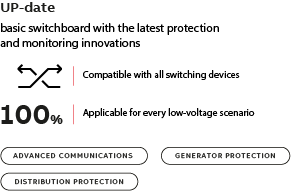 UP-grade
Ekip UP is the unit that upgrades the electronics of old facilities making them digital.
The smart unit connects the existing plant to supervision systems, also cloud-based like ABB Ability™ Electrical Distribution Control System, guaranteeing remote monitoring to allocate the different resources. It optimizes the service continuity and the energy efficiency thanks to embedded software solutions, saving until 30% operational cost. Ekip UP is a cost-effective answer to retrofit every kind of electrical distribution system compared with other retrofitting alternatives, avoiding also downtime.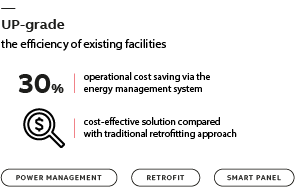 UP-load
Ekip UP uploads software solutions of the all-in-one ecosystem.
The same multi-purpose product is available in 5 different versions, so to cover the specific requirement for each application with a modular and scalable approach. Package selling upload-model guarantees modularity and flexibility in every project, where the unit uploads sw-based innovations, like interface protections for switch disconnector or gateway connectivity for a molded case circuit breaker. It is suitable from 40kW to 4MW architectures, targeting a spread range of market cases in a single product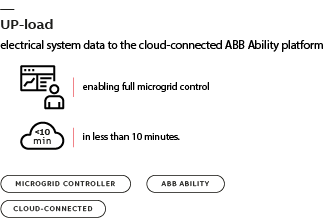 UP-time
Ekip UP maximizes uptime for system integration as a plug & play unit.
Having up to 9 communication protocol available with dedicated 4 slot spaces on the same product, go-online is fast and guaranteed. Thanks to Ekip Connect 3.0, the configuration is simple like using an app on a laptop without requiring high engineering programming skills. Leveraging on plug-in sensors, the time for retrofitting is saved until 50% if compared with traditional solutions.