ABB MCCB SACE Tmax XT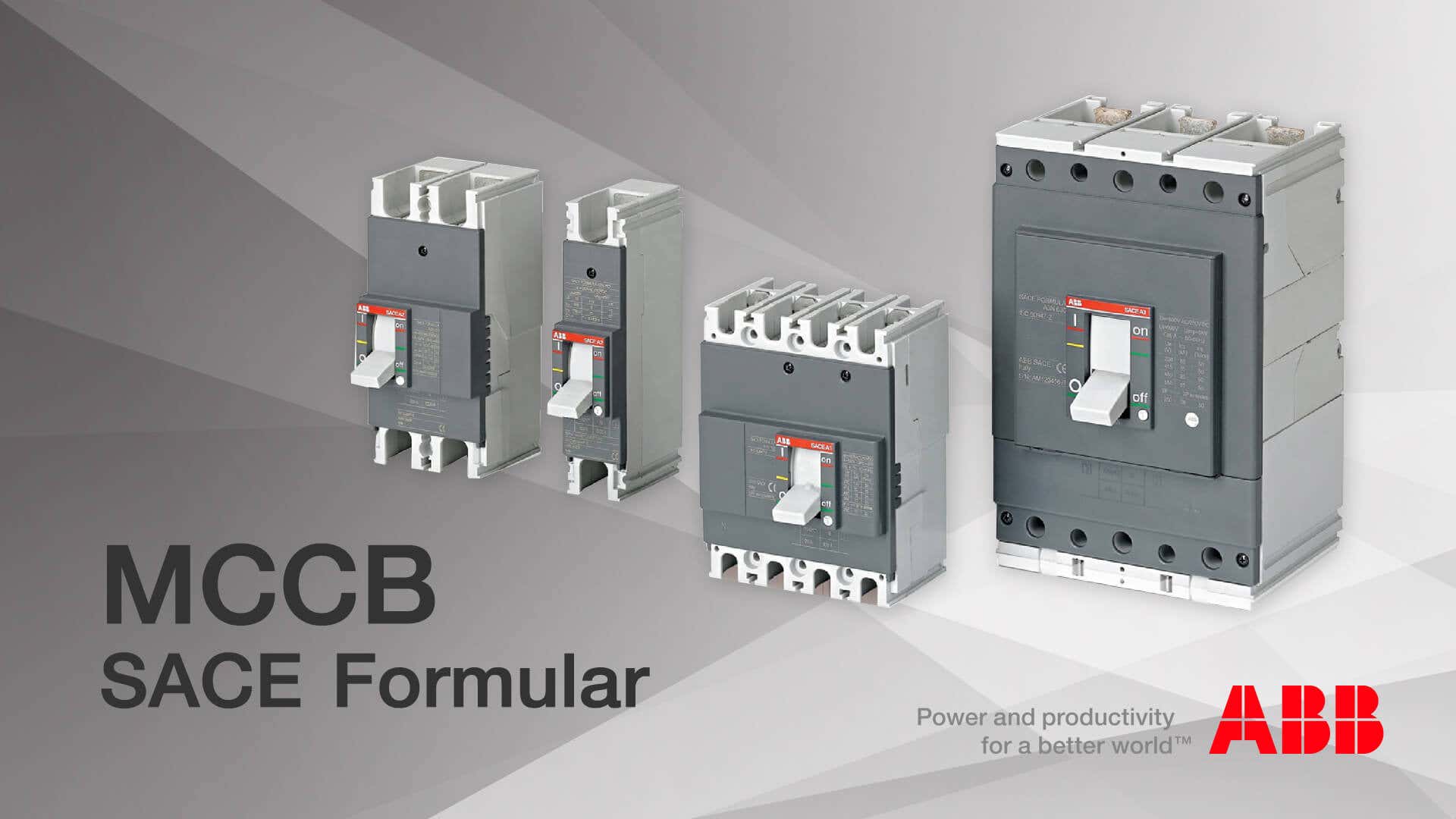 SACE Tmax XT
Simply XTraordinary
Tmax XT moulded case circuit breakers guarantee an extremely high-performance level while being progressively smaller in size, simple to install, and able to provide increasingly better safety. Range is complete with four frame sizes: XT1, XT2 up to 160A and XT3, XT4 up to 250A.
High breaking capacity in compact dimensions
XTraordinary limiting characteristics allow savings in copper and footprint in switchboard, high selectivity values, and very compact motor protection solutions.
Ease of use and installation flexibility
A dedicated range of accessories and a renewed solution for electronic trip units to adapt Tmax XT to different application scenarios.
Customized protection and information availability
Specific electronic trip units for energy metering, motor protection, and generator protection in addition to a Modbus communication module for integration in a supervision system.
Increased safety for operators
Wide range of keylocks and padlocking options, plug-in and withdrawable versions to speed up maintenance operations, and improved diagnostic to have ready-to-use information about breakers' status.

Applications
During the last few years, the growing attention to environmental issues together with new policies of cost reduction, which involve not only capital costs but also operational costs, has led to a wider diffusion of the energy measurements practice down to the lower distribution levels.
The aim of this tendency is to get to optimal load management and to identify possible system inefficiencies. Examples of these loads can be machinery, any subparts of an industrial plant, the various modules that compose a data center as well as the different consumptions of a conditioning system in a mall. The possibility to measure, transmit and store data about each load is fundamental.
Ekip E-LSIG trip unit for Tmax XT4 has been designed to protect loads ranging from 16A to 250A with operating voltages up to 690V against overloads, short circuits, ground faults, and over and under voltages.
At the same time, without the need for any external module or sensor and without increasing the installation dimensions, Ekip E-LSIG can provide measurements of the main electrical quantities. Current (class 1), voltage (±0,5%), power and energy (class 2) as well as power factor, frequency, and THD are data that can be retrieved from the trip unit. By means of the Ekip COM module for MODBUS communication, it is easy to send measurements and additional data to a supervision system.
Motor protection is one of the most common applications for moulded case circuit breakers in low-voltage installations.
Safety and reliability of the solution are important aspects that must be considered when choosing and manufacturing a system for starting and monitoring motors. Start-up is a particularly critical phase for the motor itself and for the installation powering it. When it comes to direct starting, ABB SACE proposes two different solutions:
a conventional system with three poles circuit-breaker equipped with a magnetic-only trip unit for protection against short-circuits, a thermal relay for protection against overloads and phase failure or imbalance, and a contactor to operate the motor;
an advanced protection system onboard the circuit breaker which integrates all the protection and monitoring functions, and a contactor for operating the motor.
Tmax XT is covering both solutions thanks to its range of motor protection trip units. Magnetic-only MF/MA trip units together with electronic Ekip M-I trip units can be coordinated with contactors and thermal relays for the most common solutions.
Ekip M-LIU and Ekip M-LRIU, available on XT2 and XT4, are the most advanced options to integrate protection functions onboard the circuit breakers. Protection against overload (with thermal memory) is guaranteed by selecting a trip class among 3E, 5E, 10E, and 20E in accordance with IEC 60947-4-1. Protection U against phase unbalance, R against rotor lock, and G against ground faults can also be available.
The use of generators is no longer occasional and limited to short periods, but it has become continuous and no more subject to long stoppage periods. For this purpose, it is indispensable to guarantee adequate protection of the electric plant.
Protection against overload: circuit breaker must be selected and set so that it trips before temperatures damaging insulating materials are reached. Product standards stipulate that, for a specified time, the generator must be able to carry a given current higher than the rated current. It is very common that prescriptions for generator protection are included in shipping registers, which is why SACE Tmax XT trip units' curves have been designed to comply with them.
Protection against short-circuit: the short-circuit current of a generator decreases over time and its initial value is about 3 – 5 times the rated current of the generator itself. To detect a fault within a suitable time and disconnect the generator, it is necessary to select circuit breakers with low magnetic trip thresholds or circuit breakers fitted with electronic trip units with adjustable thresholds. With the new series of SACE Tmax XT circuit breakers, ABB widens its range of solutions for generator protection:
Tmax XT2 and XT3 can be fitted with thermomagnetic (TMG) trip units with low thresholds for magnetic protection.
Tmax XT2 and XT4 have the additional option of an electronic trip unit, Ekip G-LS/I, with different protection curves from standard power distribution ones. The time of intervention has been fixed in accordance with main Naval Registers such as Lloyd's Register of Shipping, Germanischer Lloyd, Bureau Veritas, Rina, Det Norske Veritas, Russian Maritime Register of Shipping, and ABS.

Meet EPIC : A New Work Experience

EPIC is the new free mobile application to let installers, maintenance technicians and panel builders go beyond their normal way to work.