PanelMax™ Noise Shield
[vc_row type="in_container" full_screen_row_position="middle" scene_position="center" text_color="dark" text_align="left" overlay_strength="0.3" shape_divider_position="bottom"][vc_column column_padding="no-extra-padding" column_padding_position="all" background_color_opacity="1" background_hover_color_opacity="1" column_shadow="none" column_border_radius="none" width="1/1" tablet_text_alignment="default" phone_text_alignment="default" column_border_width="none" column_border_style="solid"][split_line_heading]
Features and Benefits – PanelMax
™

Noise Shield

[/split_line_heading][/vc_column][/vc_row][vc_row type="in_container" full_screen_row_position="middle" scene_position="center" text_color="dark" text_align="left" overlay_strength="0.3" shape_divider_position="bottom"][vc_column column_padding="no-extra-padding" column_padding_position="all" background_color_opacity="1" background_hover_color_opacity="1" column_shadow="none" column_border_radius="none" width="1/1" tablet_text_alignment="default" phone_text_alignment="default" column_border_width="none" column_border_style="solid"][image_with_animation image_url="11933" alignment="center" animation="Fade In" border_radius="none" box_shadow="none" max_width="100%"][divider line_type="No Line"][/vc_column][/vc_row][vc_row type="in_container" full_screen_row_position="middle" scene_position="center" text_color="dark" text_align="left" overlay_strength="0.3" shape_divider_position="bottom"][vc_column column_padding="no-extra-padding" column_padding_position="all" background_color_opacity="1" background_hover_color_opacity="1" column_shadow="none" column_border_radius="none" width="2/3" tablet_text_alignment="default" phone_text_alignment="default" column_border_width="none" column_border_style="solid"][vc_column_text]

PanelMax™ Noise Shield separates drive cables and sensitive communication/signal cables within industrial control panels to reduce electromagnetic interference (EMI) while saving valuable space.

[/vc_column_text][/vc_column][vc_column column_padding="no-extra-padding" column_padding_position="all" background_color_opacity="1" background_hover_color_opacity="1" column_shadow="none" column_border_radius="none" width="1/3" tablet_text_alignment="default" phone_text_alignment="default" column_border_width="none" column_border_style="solid"][image_with_animation image_url="11934" alignment="" animation="Fade In" border_radius="none" box_shadow="none" max_width="100%"][/vc_column][/vc_row][vc_row type="in_container" full_screen_row_position="middle" scene_position="center" text_color="dark" text_align="left" overlay_strength="0.3" shape_divider_position="bottom"][vc_column column_padding="no-extra-padding" column_padding_position="all" background_color_opacity="1" background_hover_color_opacity="1" column_shadow="none" column_border_radius="none" width="2/3" tablet_text_alignment="default" phone_text_alignment="default" column_border_width="none" column_border_style="solid"][vc_column_text]

Metal noise barrier equivalent to 6 inches of air spacing between power and signal cables, saves valuable panel space.

[/vc_column_text][/vc_column][vc_column column_padding="no-extra-padding" column_padding_position="all" background_color_opacity="1" background_hover_color_opacity="1" column_shadow="none" column_border_radius="none" width="1/3" tablet_text_alignment="default" phone_text_alignment="default" column_border_width="none" column_border_style="solid"][image_with_animation image_url="11936" alignment="" animation="Fade In" border_radius="none" box_shadow="none" max_width="100%"][/vc_column][/vc_row][vc_row type="in_container" full_screen_row_position="middle" scene_position="center" text_color="dark" text_align="left" overlay_strength="0.3" shape_divider_position="bottom"][vc_column column_padding="no-extra-padding" column_padding_position="all" background_color_opacity="1" background_hover_color_opacity="1" column_shadow="none" column_border_radius="none" width="2/3" tablet_text_alignment="default" phone_text_alignment="default" column_border_width="none" column_border_style="solid"][vc_column_text]

Perforated and pre-scored sections make it easy to cut to length with minimal deburring required.

[/vc_column_text][/vc_column][vc_column column_padding="no-extra-padding" column_padding_position="all" background_color_opacity="1" background_hover_color_opacity="1" column_shadow="none" column_border_radius="none" width="1/3" tablet_text_alignment="default" phone_text_alignment="default" column_border_width="none" column_border_style="solid"][image_with_animation image_url="11935" alignment="" animation="Fade In" border_radius="none" box_shadow="none" max_width="100%"][/vc_column][/vc_row][vc_row type="in_container" full_screen_row_position="middle" scene_position="center" text_color="dark" text_align="left" overlay_strength="0.3" shape_divider_position="bottom"][vc_column column_padding="no-extra-padding" column_padding_position="all" background_color_opacity="1" background_hover_color_opacity="1" column_shadow="none" column_border_radius="none" width="1/1" tablet_text_alignment="default" phone_text_alignment="default" column_border_width="none" column_border_style="solid"][split_line_heading]
PanelMax

™

Noise Shield 
[/split_line_heading][/vc_column][/vc_row][vc_row type="in_container" full_screen_row_position="middle" scene_position="center" text_color="dark" text_align="left" overlay_strength="0.3" shape_divider_position="bottom"][vc_column column_padding="no-extra-padding" column_padding_position="all" background_color_opacity="1" background_hover_color_opacity="1" column_shadow="none" column_border_radius="none" width="2/3" tablet_text_alignment="default" phone_text_alignment="default" column_border_width="none" column_border_style="solid"][vc_column_text]
• Metal noise barrier reduces EMI noise coupling between noise emitting and sensitive cabling within a control panel; provides up to 20dB reduction in noise which is equivalent to 6 inches of air spacing
• Installs directly to metal panel surface or within 2, 3, or 4-inch height Panduit wiring duct (when a shield is installed with supplied bonding clips)
• Perforated and pre-scored sections speed installation by allowing sections of the  shield to be snapped off at pre-scored locations to easily cut to length with minimal deburring required
• Vertical wall slots allow wires to cross the barrier at 90° when necessary, providing greater design flexibility
• Horizontal cable tie slots allow cable bundles to be held in place using cable ties so cabling is kept near barrier for greater reliability and optimal aesthetics
• Zinc plated steel surface in contact areas with sub-panel and bonding clip ensures continuity and is corrosion resistant
• Black powder coated vertical surface for smooth edges
• Meets UL 508/508A requirements as a barrier between conductors
[/vc_column_text][/vc_column][vc_column column_padding="no-extra-padding" column_padding_position="all" background_color_opacity="1" background_hover_color_opacity="1" column_shadow="none" column_border_radius="none" width="1/3" tablet_text_alignment="default" phone_text_alignment="default" column_border_width="none" column_border_style="solid"][image_with_animation image_url="11932" alignment="center" animation="Fade In" border_radius="none" box_shadow="none" max_width="100%"][divider line_type="No Line"][/vc_column][/vc_row][vc_row type="in_container" full_screen_row_position="middle" scene_position="center" text_color="dark" text_align="left" overlay_strength="0.3" shape_divider_position="bottom"][vc_column column_padding="no-extra-padding" column_padding_position="all" background_color_opacity="1" background_hover_color_opacity="1" column_shadow="none" column_border_radius="none" width="1/3" tablet_text_alignment="default" phone_text_alignment="default" column_border_width="none" column_border_style="solid"][/vc_column][vc_column column_padding="no-extra-padding" column_padding_position="all" background_color_opacity="1" background_hover_color_opacity="1" column_shadow="none" column_border_radius="none" width="1/3" tablet_text_alignment="default" phone_text_alignment="default" column_border_width="none" column_border_style="solid"][nectar_btn size="medium" button_style="regular" button_color_2="Extra-Color-2" icon_family="default_arrow" url="https://sg.electgo.com/brands/panduit?utf8=%E2%9C%93&search=Noise+Shield" text="Shop Now"][/vc_column][vc_column column_padding="no-extra-padding" column_padding_position="all" background_color_opacity="1" background_hover_color_opacity="1" column_shadow="none" column_border_radius="none" width="1/3" tablet_text_alignment="default" phone_text_alignment="default" column_border_width="none" column_border_style="solid"][/vc_column][/vc_row][vc_row type="in_container" full_screen_row_position="middle" scene_position="center" text_color="dark" text_align="left" overlay_strength="0.3" shape_divider_position="bottom"][vc_column column_padding="no-extra-padding" column_padding_position="all" background_color_opacity="1" background_hover_color_opacity="1" column_shadow="none" column_border_radius="none" width="1/2" tablet_text_alignment="default" phone_text_alignment="default" column_border_width="none" column_border_style="solid"][split_line_heading]
Performance Characteristics of Noise Sheild
[/split_line_heading][/vc_column][vc_column column_padding="no-extra-padding" column_padding_position="all" background_color_opacity="1" background_hover_color_opacity="1" column_shadow="none" column_border_radius="none" width="1/2" tablet_text_alignment="default" phone_text_alignment="default" column_border_width="none" column_border_style="solid"][vc_row_inner column_margin="default" text_align="left"][vc_column_inner column_padding="no-extra-padding" column_padding_position="all" background_color_opacity="1" background_hover_color_opacity="1" column_shadow="none" column_border_radius="none" width="1/1" column_border_width="none" column_border_style="solid"][image_with_animation image_url="11941" alignment="" animation="Fade In" border_radius="none" box_shadow="none" max_width="100%"][/vc_column_inner][/vc_row_inner][/vc_column][/vc_row][vc_row type="in_container" full_screen_row_position="middle" scene_position="center" text_color="dark" text_align="left" overlay_strength="0.3" shape_divider_position="bottom"][vc_column column_padding="no-extra-padding" column_padding_position="all" background_color_opacity="1" background_hover_color_opacity="1" column_shadow="none" column_border_radius="none" width="1/1" tablet_text_alignment="default" phone_text_alignment="default" column_border_width="none" column_border_style="solid"][nectar_animated_title heading_tag="h2" style="color-strip-reveal" color="Accent-Color" text="Enquire Now"][gravityform id="7" title="false" description="false" ajax="false"][/vc_column][/vc_row][vc_row type="in_container" full_screen_row_position="middle" scene_position="center" text_color="dark" text_align="left" overlay_strength="0.3" shape_divider_position="bottom"][vc_column column_padding="no-extra-padding" column_padding_position="all" background_color_opacity="1" background_hover_color_opacity="1" column_shadow="none" column_border_radius="none" width="1/1" tablet_text_alignment="default" phone_text_alignment="default" column_border_width="none" column_border_style="solid"][nectar_animated_title heading_tag="h2" style="color-strip-reveal" color="Accent-Color" text="Discover More "][recent_posts style="slider_multiple_visible" category="panduit" columns="4" button_color="Accent-Color" order="DESC" orderby="date" posts_per_page="4" post_offset="2"][/vc_column][/vc_row]
PanelMax™ Noise Shield separates drive cables and sensitive communication/signal cables within industrial control panels to reduce electromagnetic interference (EMI) while saving valuable space.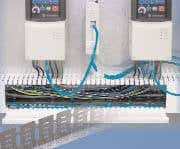 Metal noise barrier equivalent to 6 inches of air spacing between power and signal cables, saves valuable panel space.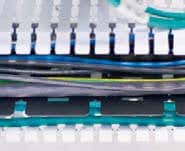 Perforated and pre-scored sections make it easy to cut to length with minimal deburring required.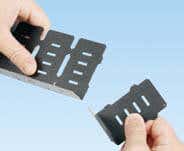 • Metal noise barrier reduces EMI noise coupling between noise emitting and sensitive cabling within a control panel; provides up to 20dB reduction in noise which is equivalent to 6 inches of air spacing
• Installs directly to metal panel surface or within 2, 3, or 4-inch height Panduit wiring duct (when a shield is installed with supplied bonding clips)
• Perforated and pre-scored sections speed installation by allowing sections of the shield to be snapped off at pre-scored locations to easily cut to length with minimal deburring required
• Vertical wall slots allow wires to cross the barrier at 90° when necessary, providing greater design flexibility
• Horizontal cable tie slots allow cable bundles to be held in place using cable ties so cabling is kept near barrier for greater reliability and optimal aesthetics
• Zinc plated steel surface in contact areas with sub-panel and bonding clip ensures continuity and is corrosion resistant
• Black powder coated vertical surface for smooth edges
• Meets UL 508/508A requirements as a barrier between conductors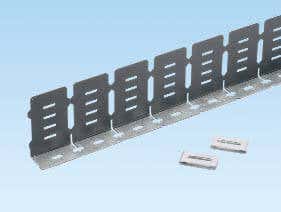 Performance Characteristics of Noise Shield
---