Electric Vehicle Charging Infrastructure in Singapore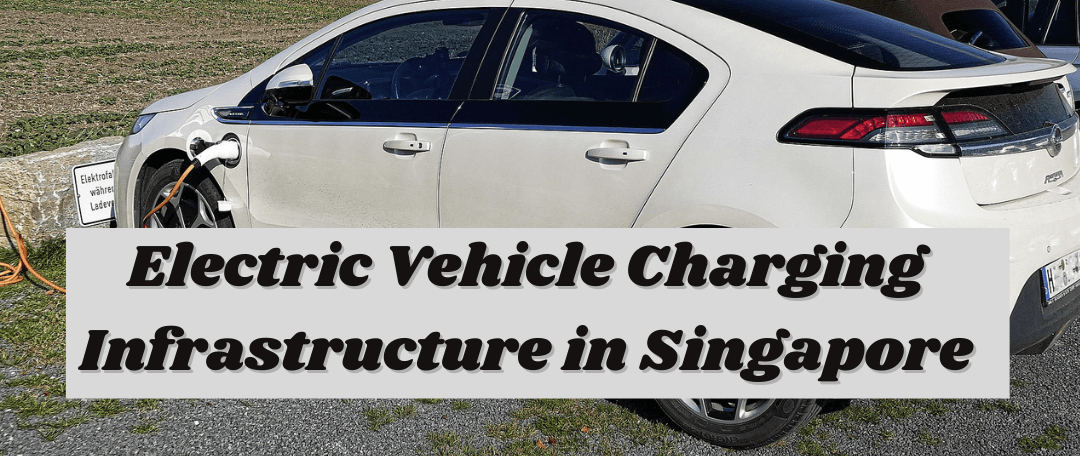 Overview of Singapore's electric vehicles (EVs)
In 2014, the Land Transport Authority ("LTA") and the Intelligent Transportation Society Singapore (ITSS) developed "Smart Mobility 2030", which is Singapore's master plan that outlines how the country will develop its Intelligent Transport Systems (ITS) over the next 15 years. "Smart Mobility 2030" further highlights four focal areas: Informative, Interactive, Assistive, and Green Mobility. These focal areas emphasise the need to leverage ITS initiatives to provide high-quality information to meet diverse needs, enhance travelling experience with smarter interactivity, create a safe and secure roadway environment, and envision a sustainable and environmentally friendly ITS.
An EV emits half the amount of CO2 as compared to a similar vehicle powered by an internal combustion engine (ICE). If all our light vehicles run on electricity, we would reduce carbon emissions by 1.5 to 2 million tonnes, or about 4% of total national emissions.
Indeed, over the years, Singapore has seen an increase in the deployment of EVs and EV-related infrastructure.
Electric vehicle charging infrastructure
In order to accelerate the adoption of EV in Singapore, it is critical to plan for charging facilities to be readily accessible and available island-wide. There is an increasing number of charging facilities available in Singapore within the past few years, and there are ambitious plans to further increase this number. This follows from the three-year EV test-bed programme, launched by an EV task force that was set up by the Energy Market Authority ("EMA") and LTA in 2011. The test-bed focuses on gathering data and insights to guide the planning for future deployment of EVs, including the optimal ratio of charging stations to vehicles.
Leading efforts in the widespread deployment of charging points is Singapore Power Group ("SP Group"), a Government-owned electricity and gas distribution company in Singapore. SP Group plans to install 1,000 EV charging points by 2020, double the amount they initially planned. On 9 January 2019, SP deployed their first wave of 38 high-speed EV charging points, which include AC and DC chargers.
The Government targets to deploy 60,000 electric vehicles (EV) charging points across Singapore by 2030, which comprise 40,000 in public car parks and 20,000 in private premises. To achieve these targets, the Government will implement measures to accelerate deployment at both public car parks and private premises.
These charging systems must comply with the regulatory requirements set out by the EMA. Specifically, the required EV charging standard is TR25:2016, and can either be AC or DC chargers. In installing these charging systems, operators are required to engage a Licensed Electrical Worker (LEW) to install, test, and certify the fitness of EV Supply Equipment (EVSE) installation. EV charging operators must also be compliant with laboratories that are accredited with the Singapore Accreditation Council.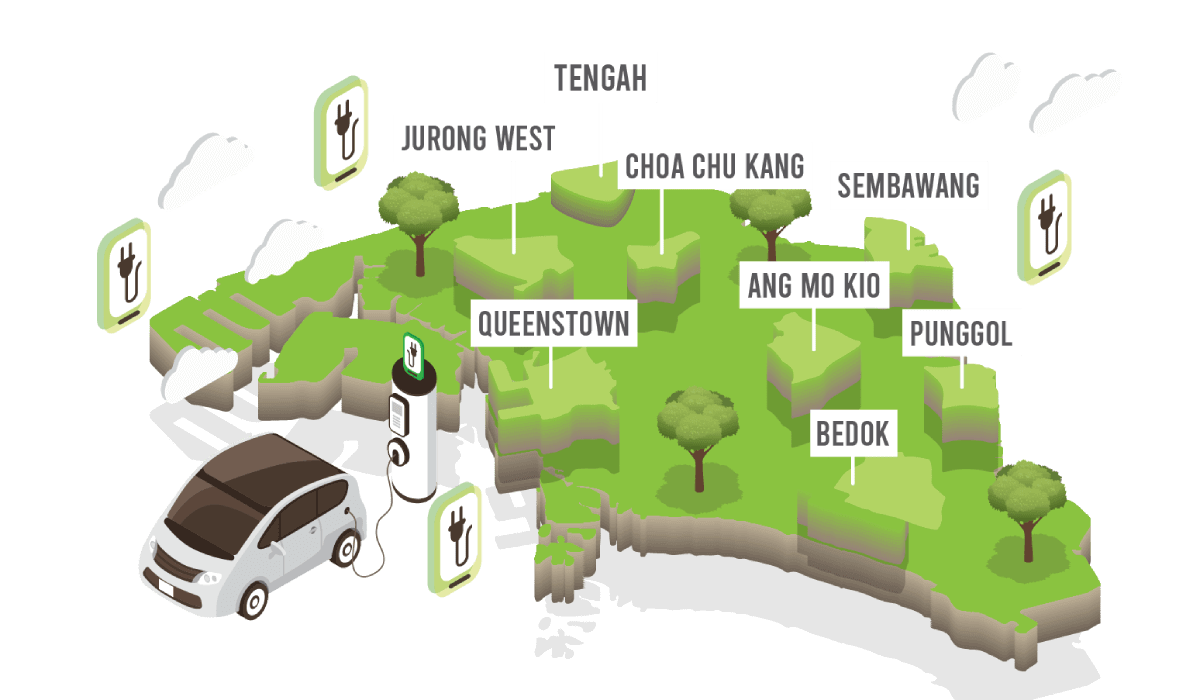 Source: LTA (n.d). EV ready towns [infographic].
https://www.lta.gov.sg/content/ltagov/en/industry_innovations/technologies/electric_vehicles.html
Your Extensive Guide To Purchasing EV Charger In Singapore
There is a growing interest in investing in EV charging infrastructure here in Singapore due to the country's steadily growing electric vehicle population.
Why Should Businesses Push Through Having Their Own EV Charger Station As Early As Now?
Singapore's electric vehicle population has been continuously increasing since 2018. In 2020, the EV population reached 1,217 compared with 560 in 2018. This means that there is also a growing need for EV chargers.
In addition, it is known that Singapore has officially announced the target date for phasing out internal combustion engine vehicles – which is in 2040. This also entails many people switching to using electric cars and EV chargers.
The more EV charger stations exist in Singapore, the better
These stations make life much easier for those who already have electric cars since they no longer have to go home after driving around just to plug their vehicles into an electrical outlet.
If you are one of the many who are interested in knowing more about establishing your own electric car charger station, including its installation, maintenance, and many others, just keep on reading.
What Is An Electric Vehicle Charging Infrastructure?
EV Charger, also referred to as an 'Electric Vehicle Charging Station' is a type of charging station for electric cars that provides energy from the power grid to recharge them. They are often found at public places such as gas stations and shopping centers where most people spend time, which makes it convenient since all you have to do is plug your car in there when needed instead of searching around for one elsewhere.
Benefits Of Using EV Charger
Convenience and efficiency are what electric vehicles (EV) users look for when charging their cars. It fuels your car at the convenience of your home. With an EV charger, you can charge up on a whim. You don't need to go to a gasoline station, especially if you have your own electric vehicle charging point at home.
If you are an entrepreneur, taking the initiative to establish an electric vehicle charging infrastructure is an ideal and wise move because of its potential to grow in the coming years.
Where Can You Find A Reputable EV Charger Supplier In Singapore?
There's no doubt that getting your own EV charger is a smart investment. To be able to make sure that your money won't be put to waste, always look for a trusted brand.
Here at Electgo, we've partnered with a company that is trusted not just by the consumers but also by a leading utilities group in the Asia Pacific – the SP group. It's ABB Ltd, formerly ASEA Brown Boveri or BBB.
What Can ABB Ltd Offer To All Of Us Here In Singapore?
ABB has been in the business for over 100 years, it has been specializing in robotics as well as power and heavy electrical equipment. ABB is contributing to making e-mobility thrive in Singapore. They are selected by the SP group to supply DC fast charging stations that are capable of recharging EV batteries within 30 minutes. In 2020, SP group aimed to deploy 500 EV charging points in Singapore.
Additionally, the ABB EV charging stations, particularly ABB's Terra 53 DC fast charging station, are also being used by one of the largest land transport companies in the world – ComfortDelGro.
ABB has already sold 400,000 units of EV chargers all over the world. These are just among the reasons why you should choose ABB as your EV charger supplier.
List Of ABB Electric Vehicle Charging Infrastructure
The company offers to charge infrastructure for both public and commercial electric vehicles. They provide different options, ranging from residential or business-based installations to area-wide networks that can charge multiple cars at once.
They also provide the opportunity and means for customers in a variety of sectors to install EV chargers where they need them most – their homes, companies, or even entire communities!
Here are some of the ABB products that you can purchase from us:
AC destination
Terra AC wallbox – This can also be set up anywhere, be it your home office to a hotel room in need of power up overnight. It is the superior EV home charger, delivering high-value quality and flexibility. You can also set it up via mobile apps like ChargerSync Mobile App and ChargerSync Essentials Operational portal.
DC Destination
Terra DC wallbox – This is a future-proof investment with fast charging in an ultra-compact footprint. This can be set up anywhere, from your residences to commercial spaces. It provides high voltage charging in a safe and reliable manner.
Don't know what EV charger to buy for your company? Let us help! We'll guide you through the different options, and discuss features and the installation process. If you'll install it for business purposes, we can provide the software and payment gateway that you'll need.
Frequently Asked Questions About Electric Vehicle Charging Infrastructure In Singapore
What Company Builds EV Charging Stations In Singapore?
There are many EV suppliers in Singapore but we recommend ABB because they have proven that they are a reliable and trustworthy company. They have an impressive track record with over 400,000 units sold throughout the world which is more than any other EV supplier in Singapore can offer. You'll also be happy to know that they have been chosen by SP Group as DC fast charging station supplier and that many big companies such as Shell and ComfortDelGro are partnering up with them for electric vehicle charging infrastructure here in Singapore.
How Many EV Charging Stations Are There In Singapore In 2030?
According to the Land Transport Authority, the government has set a goal of 60,000 electric vehicles on Singapore's roads by 2030. They plan to do this in part through the installation of EV charging points all over the country. They make sure to take necessary measures so they can achieve this target.
Are EV Charging Stations Profitable?
Electric vehicles have been on the rise for some years now and it doesn't seem like that trend will be slowing down anytime soon. Although many Singaporeans are still waiting to see just how much money they can make from EV charging stations as it's not so profitable here yet, there's a big potential that the demand for EV charging stations will grow when people learn to accept electric cars into their lives.
How Much Does It Cost To Charge An Electric Car In Singapore?
It can cost from $1 to $2 per hour or $0.55 per kWh. It would be much more convenient if you had one yourself so then there was no need to wait at all. You could recharge your electric car anytime you want.
What Is The Best Home EV Charger?
We recommend ABB Terra AC wallbox because you can place it at home or in small offices. Connectivity, convenience, and smart functionality make the Terra AC wallbox perfect for any homeowner.
---
References
EMA. (2011, June, 25). Launch of Singapore's Electric Vehicle Test-bed.
https://www.ema.gov.sg/media_release.aspx?news_sid=20140609xajR79y5ws2j
LTA. (2014, August 06). LTA and ITSS launch "Smart Mobility 2030".
https://www.lta.gov.sg/content/ltagov/en/newsroom/2014/8/2/lta-and-itss-launch-smart-mobility-2030.html
LTA. (2021, March 04). Factsheet: Accelerating Nationwide Deployment of Electric Vehicle Charging Points.
https://www.lta.gov.sg/content/ltagov/en/newsroom/2021/3/news-release/Accelerating_nationwide_deployment_of_electric_vehicle_charging_points.html
Tan, C. (2019, January 09). SP launches 38 high-speed charging points for electric vehicles.
https://www.straitstimes.com/singapore/transport/sp-launches-38-high-speed-charging-points-for-electric-vehicles
https://www.lta.gov.sg/content/dam/ltagov/who_we_are/statistics_and_publications/statistics/pdf/MVP01-4_MVP_by_fuel.pdf
https://www.channelnewsasia.com/news/commentary/singapore-budget-2020-electric-vehicles-ice-ves-hybrid-car-2040-12457240
https://www.lta.gov.sg/content/ltagov/en/newsroom/2021/3/news-release/Accelerating_nationwide_deployment_of_electric_vehicle_charging_points.html