ABB CMS700 Control Unit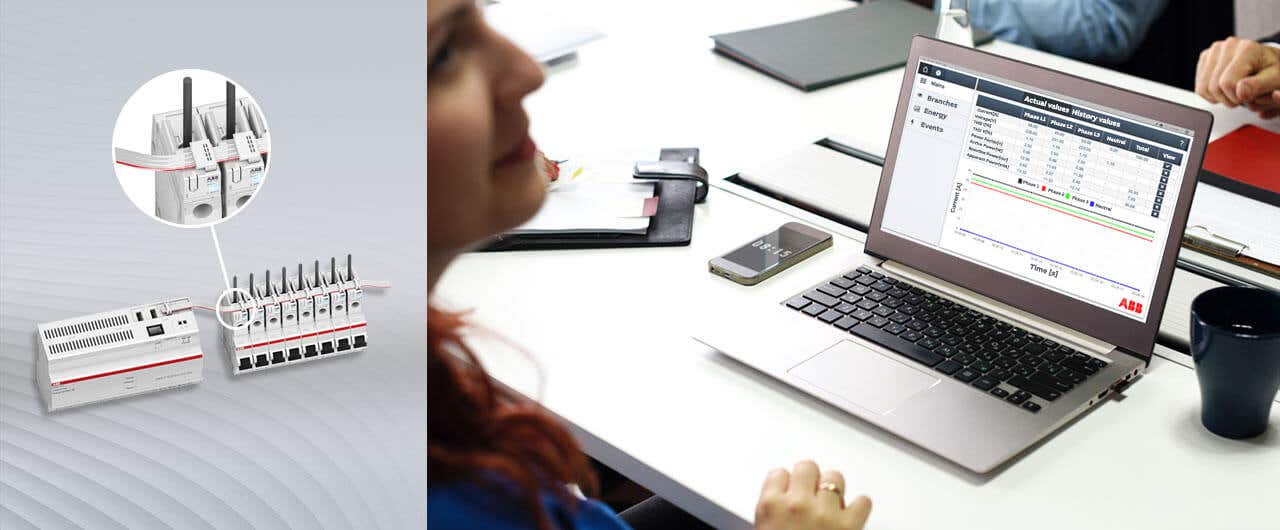 The efficiency of easy and quick energy monitoring
Maximum transparency of electrical consumption with up to 96 sensors!
The new control unit CMS-700 completes the range of Circuit Monitoring Systems, which enable multi-channel measurement system in alternating (AC) as well as direct current (DC). The CMS consists of a control unit and sensors, allowing easy monitoring of the individual lines of a facility.
CMS-700 enables detailed monitoring of energy consumption of up to 96 sensors (96 single-phase or 32 three-phase lines or a mix of the two up to the limit of 96 sensors). Easy to install, it is a versatile and efficient solution, which can be integrated into already wired panels.
Using the integrated web server, the CMS-700 control unit provides easy access to data collection, analysis and download in order to optimize energy consumption, efficiency and energy management of the system. All CMS-700 central units can be accessed remotely via different communication protocols.

Interested to buy CMS700 at a special price ?
Benefits
Easy to install on existing systems that are already wired
Reduced installation time: components get linked over one flat cable leading to an excellent overview in the distribution unit
Compact monitoring system for multichannel branching in alternating current (AC) and in direct current (DC)
Scalability of the solution, as the user can freely choose the number of measurement points he needs
Utmost data security thanks to encrypted SNMP v3 and SSL certificate
No need for external software: plug&play integrated web server allows for clear visibility of energy consumption at branch level
The upgradeable firmware of the CMS-700 always provides you with the latest version of the product in terms of functionalities and security
Features
Extremely accurate and efficient measurements of AC, DC or mixed currents up to 160 A (TRMS) thanks to sensors with a width of 18-25 mm
The parameters are processed via the control unit which manages up to 96 sensors (up to 96 single-phase lines, or 32 three-phase lines or a mix of up to 96 sensors)
Support of several communication protocols: Modbus RTU, Modbus TCP/IP, SNMP v1/v2 and v3 encrypted
Easy access for data collection (online and historical values) and quick data export provided by the integrated web server
Notification of alarms via e-mail and FTP server
Data centers (e.g. consumption monitoring of every single PDU)
Shopping centers (e.g. monitoring of supply lines for shops or cooling supply lines for predictive maintenance)
Hospitals (e.g. monitoring dedicated power supply lines)
Small-medium sized buildings (allows for the real time monitoring of the lines and detecting anomalies of current/power consumption)
Shared facilities (e.g. monitoring lines branching from shared parts counter or box power lines
Industries (e.g. monitoring of motor power lines for predictive maintenance)
Fairs (e.g. supply lines monitoring of the stands)
The CMS-700 system provides easy access for data collection via the integrated web server.
The components making up the CMS-700 system are:
Closed/open core sensors which can be installed on existing systems without the need to wire the lines. The sensors can be installed directly on the S200 or S800 circuit-breakers or attached directly on the cables, thus minimizing the wiring in the distribution panel
CMS-700 control unit enables energy and power measurements in the main circuit that the device is monitoring, capturing current and energy data from sensors at branch level. Communication protocols include Modbus RTU, TCP and SNMP v1, 2 & 3, guaranteeing utmost data security
Control unit sensor bus connection cable: flexible flat cable with quick connection via insulation piercing connectors

The CMS-700 is part of our industrial internet technology platform and cloud infrastructure called ABB AbilityTM. It is one of 180 industrial internet solutions which connects devices, systems and digital-enabling services digitally.
ABB AbilityTM combines deep domain expertise with unmatched experience in connectivity to enable customers to know more, do more, do better, together.